Are you into the tiny astromechs too?
If so, post up some pics, talk about them, engage us in conversation, etc.
My pics are from August of 2011 and not up to date...but it's still fun to look at
I have them arranged alphabetically with the concept R2 first. The clone wars droids are at the end (other than the R2-D2, which is with the regular R2-D2's). I can't decide if I should put the cartoon droids in the mix or have them at the end.
Once upon a time droids with round domes were "R2" units. Droids with clear round domes were "R3" units. The cone shaped domes were "R4" units and then the domes like R5-D4 were "R5" units. I think Hasbro is mainly to blame but those numbers have been assigned to other style domes over the years so it makes it confusing. It's mostly the round domes that have R3 and R4 designations that are weird. Hasbro even changed the name of "R3-01" to "R3-M3" for some stupid reason. That's the blue droid with a clear dome that was in ANH on the death star. Oh.. and then there is "CB-3D" and "R2 Whistler"... both are round "R2" domes.
I have added several droids to the collection since August of 2011 so some new photos are in order, some day.
I would like to get an acrylic case made to display them in, with their names on little plaques or something.
Here is a list I compiled and kept in my wallet for many years, while hunting
:
• R5-A2
• R3-A2
• R3-M3
• R4-M6
• R4-K5
• CB-3D
• R2 Whistler
• R4-E1
• R2-X2
• R2-M5
• R2-A6
• R3-Y2
• R4-A22
• R2-C4
• R3-T2
• R2-Q2
• R2-KT
• R2-Q5
• R4-I9
• R5-C7 (build a droid)
• R3-T7 (build a droid)
• R5-M2
• R5-J2
• R4-G9
• R2-D2
• R2-D2 vintage
• R2-D2 electronic.
• R2-D2 silver ann. / chrome
• R2-D2 silver / gray
• R2-D2 dagobah
• R2-D2 Mcquarrie
• R2-D2 comic pack
• R2-D2 Endor bunker
• R2-D2 ewok capture
• R2-D2 POTF naboo escape
• R2-D2 droid capture
• R2-D2 saga esb w/ boxes
• R2-D2 w/luke droid factory
• R2-D2 sail barge old version
• R2-D2 sail barge VC version
• R2-D2 with thrusters
• R5-D4 vintage
• R5-D4 saga
• R5-D4 VC collection
* R5-D4 rocket firing (yes he's dumb)
• R3-T6
• R4-M9
• R4-P17 clone wars
• R4-P17 "real"
• R4-P44 (build a droid)
• R2-L3 (build a droid)
• R4-D6 (build a droid)
• R2-B1 chrome
• R2-B1 dull
• Wedge droid = R2-A3
• R2-R9
• R5-F7
• ARC-170 = R4-C7
• R4-H5
• R4-F5
• R2-T0
• R7-T1 (build a droid)
• R7-Z0 (build a droid)
• R4-J1 (build a droid)
• R3-D3 disney
• R4-A22
• R3-S6 goldie
• R7-A7 clone wars
• R5-D2 disney
• R5-P9 battle over endor 4 pk
• R2-T7 battle over endor 4 pk
* R8-B7 clone wars (rise of boba fett)
* R2-MK Disney
* R5-K6 Scramble on Yavin exclusive
I haven't added any of the Disney "build a droid" ones from the theme parks because I'm not quite sure how to do that, or if they "count". I would have loved to have had the chance to go there and build some but we don't get to go there very often.
There are also some new "re-packs" that I've noticed, which I don't know how to include or credit. For example we saw a R4-P17 at Toys R Us last weekend at the Toys For Tots event. Does one collect those or stick with the first ones that came out?
---
dang it, I need to finish off my collection
---
Posts: 296
Joined: Wed Oct 23, 2013 3:03 pm
Location: Aurora, CO
Name: Lynelle
Here's a few of mine. The rest are in boxes somewhere, mostly still in packaging.
http://r2-al.blogspot.com
"To Do is To Be" - Socrates, "To Be is To Do" - Plato, "Do Be Do Be Do" - Sinatra
---
I only have 2 droids - the one on the left is R5-C7 from the Build-A-Droid collection on which we loosely based our R5 droid colors and patterns. The droid on the right is a Disneyland Build-A-Droid which I picked up last August because I needed a pattern model for our future R4 dome. And the R4 is the proud owner of the Yoda baseball cap.

Funny story: I'm standing at the Build-A-Droid parts bins sifting through the hat container trying to find the Yoda hat which of course is nowhere to be found. Plenty of Indiana Jones' fedoras and Mickey Mouse Ears but no Yoda hat. Then this little boy, probably no more than 6 years old, comes up to me and says "You need to find a Yoda hat - they are the hardest to find" and he starts picking through the bins with me and ultimately we find one!


You do not have the required permissions to view the files attached to this post.
---
---
Nice! I've never been to one of the build-a-droid areas. Jealous!
---
I am jealous too
So, they are re-making some droids apparently. Here is the new R4-P17:
I wasn't sure if I was going to collect the newer versions (of ones that have been made already) but I gave in and bought that one. It is slightly different from the last one.
I didn't get the droid pack that wal-mart had a while back: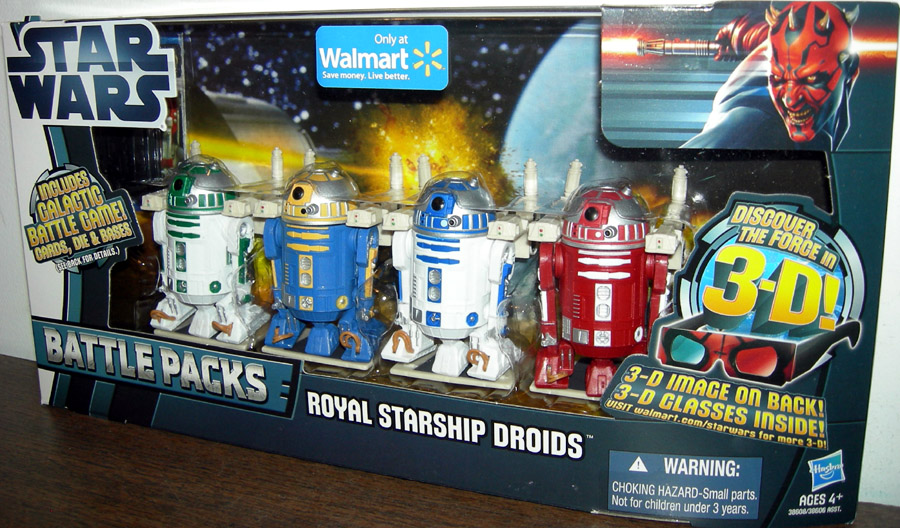 I already had droids with those names so I didn't buy it but now I'm wondering if I should have them...hmm
---
All mine are in a box somewhere.. I need to find them.. and build a shelf for them. Then start buying again.. but dam they are pricey little figures.
---
They are pricey. I had to build my collection very slowly over a few years. I need to design a case for them.


Brian, what is the droid building area like at Disney? How many different bodies, domes, etc. are there and how expensive are they?
---
From what I remember (the place was a zoo when we were there) the build-a-droid area consists of a central round standalone fixture that has 2 rows of 4 square clear bins holding parts circling the stand. One bin has the side legs, another the body, another the dome, and another the center foot, and there must be at least 3-4 bins for each part. And within each parts bin are all the various colors available. I did not add a picture of one of my son's build-a-droid as it has temporarily escaped from his room however he chose a white body with blue highlights (similar to my purple body) and added SOLID green legs and a R2 dome. I believe he has an Indiana Jones fedora for a hat. Lots of interesting color combinations can be put together.
The bins are an absolute mess, almost as bad as a sweater table at the mall around Christmas time. So many parts not in the correct bin so you really need to fish through them to get the parts you want, particularly if they are in short supply as was the Yoda baseball hat. I believe the colors available are red, blue, purple, green and black. Dome shapes that I saw included an R2, R4, and R5, each of them in all the various colors. Price was @$12 if I remember correctly although you could get 2 droids for @ $20. And they give you a plastic display box.
Finally, you know you are a knowledgeable R2 builder when hours after your son picked out his parts you are examining his droid and realize that he has 2 right legs with the left leg battery box hoses pointing towards the back instead of the front. I remember saying to myself "This will not stand" and marched back over to Tomorrow Land from Frontier Land and searched out the correct leg.
I wish I could remember more details however it was an absolute zoo in there and I was trying to watch 2 boys get their parts while trying to build my droid at the same time. So I found these links to some more info:
Here is a link that shows some nice pictures of the various choices and colors.
http://disneyparks.disney.go.com/blog/2 ... d-studios/
Here is a YouTube video of the parts bins:
http://www.youtube.com/watch?v=1vLQImicTug
Another link with nice photos of the various parts:
http://www.rebelscum.com/Disney_Droid_Factory.asp
---
Return to Introductions and General Chat
Who is online
Users browsing this forum: BibikGopsy, Bing [Bot], Coshory, DavidLIEX, Google [Bot], RobertBrems and 83 guests