Some of you I know, some of you I don't. Some of you I know better than others and that's all cool!
For those that don't know me, I'm Munchies and I'm an alco... wait wrong room.
I'm Matt aka Munchies and I'm building and R2, R2D2 specifically, Kent Stone's old R2 even more specifically. I acquired it from him a few months ago, I think like February or something? I've been tinkering with the cosmetics, building sanding, painting so on and so forth. I've done paint work and body work and cosmetics and bondo and so on before so that's pretty much a done deal. Pictures, since threads without pictures are worthless!
So here's what I started with, most of what I got out of the boxes from Kent.
Not a bad starting point. He had 3/4 of the styrene skins attached. The dome was, well partly assembled, still kinda is. The feet are giant chunks of foot shaped resin.
I decided the skins on the droid weren't worth the effort to salvage, they were yellow from age and would have needed painted anyway. So I ripped em off and ordered shiny aluminum ones. So shiny, almost felt bad knowing I was gonna paint em.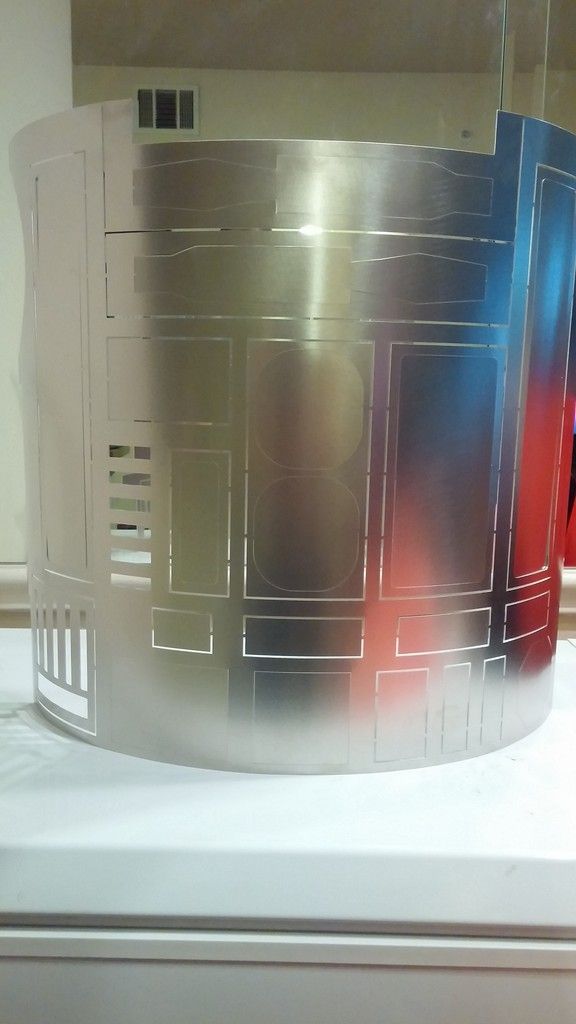 So pretty.
Along the way I found a set of dome lights, neat! Electronics aren't exactly my um, specialty so a pre-built set of dome lights was a done deal.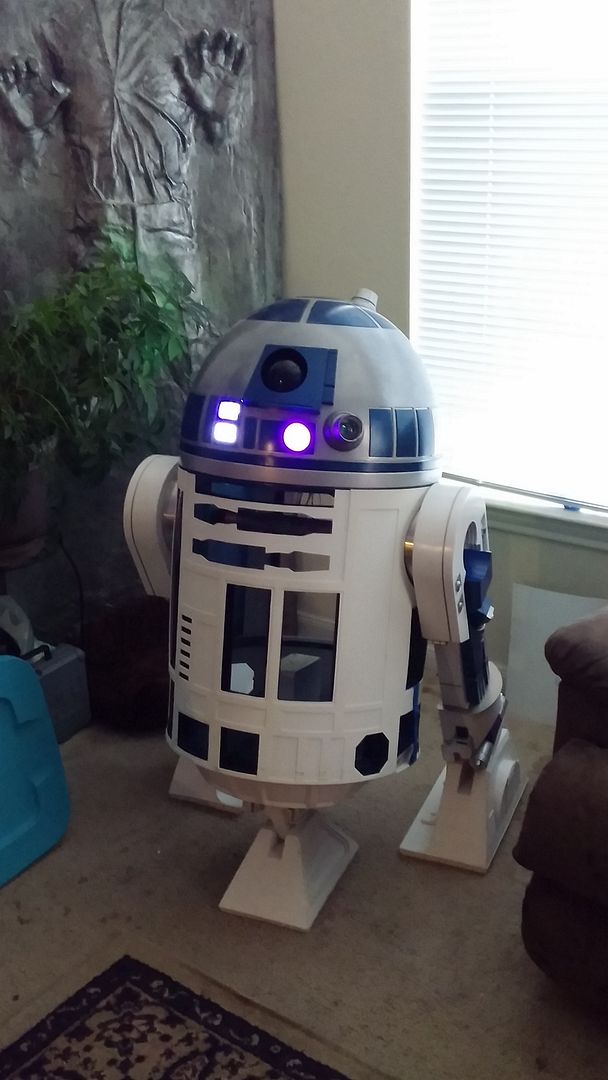 Blinky blinks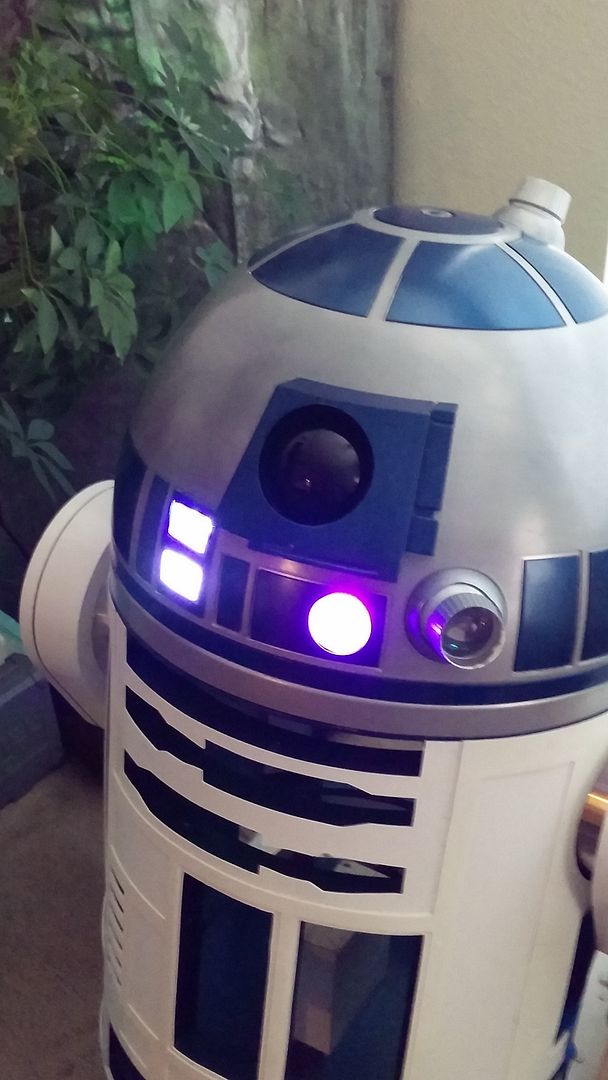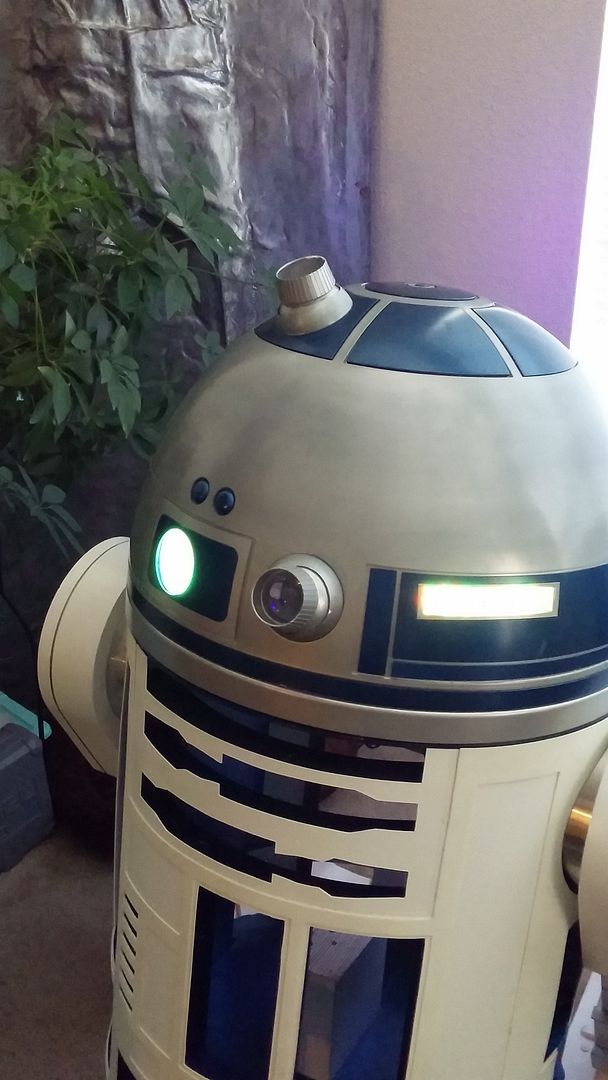 So then I ripped off the styrene skins, yes literally ripped, I think Kent stuck them on with like glue or something, they were really on there
Got them off, prepped the surfaces and glued on the aluminum skins, starting to look like something now, kinda.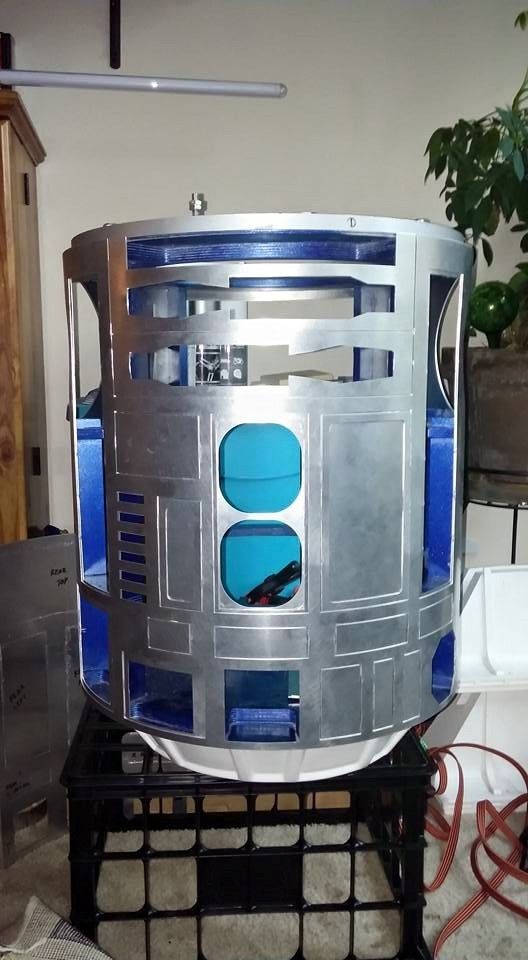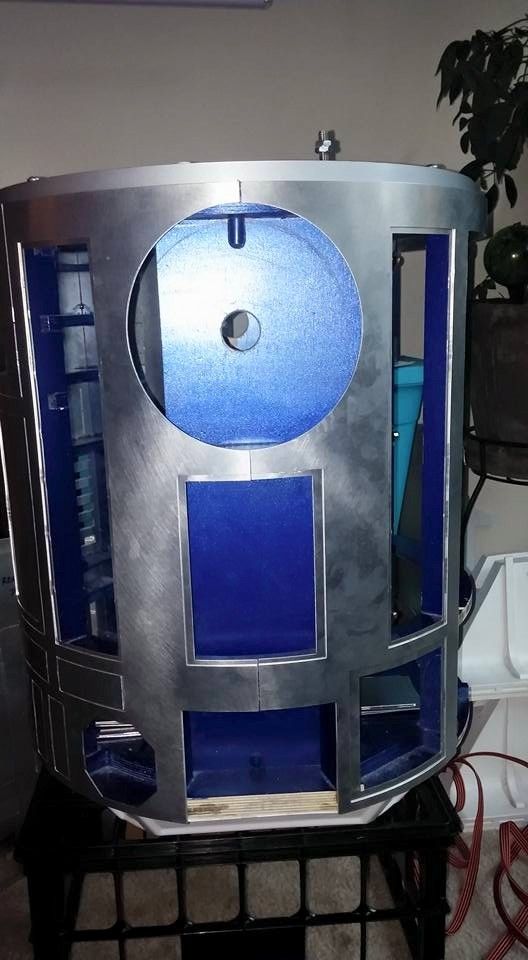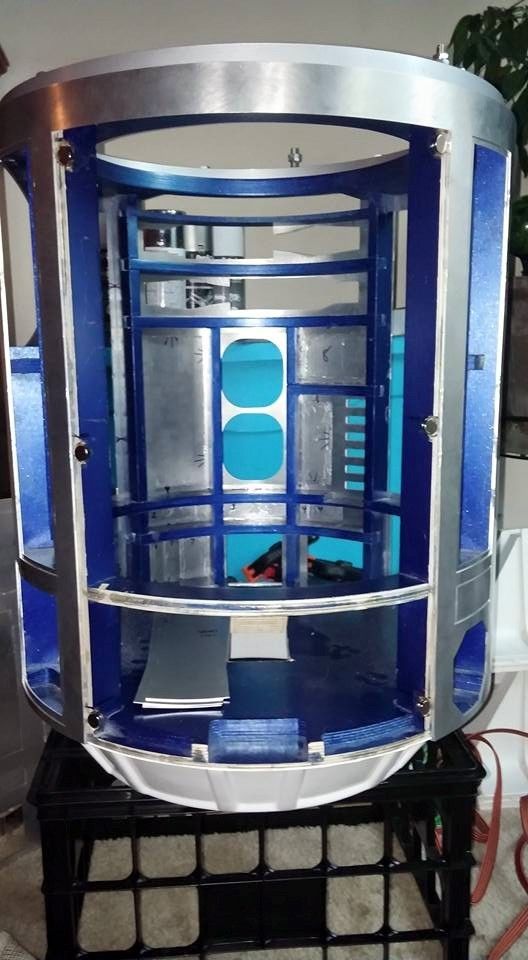 Fast forward a few weeks, or months I can't remember and the prep work on the skins was done, time to paint!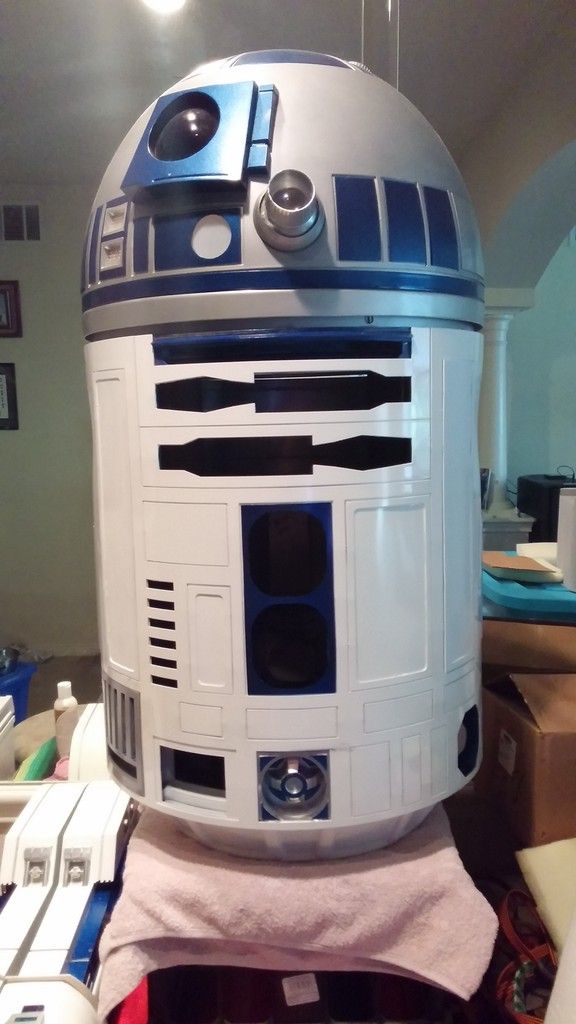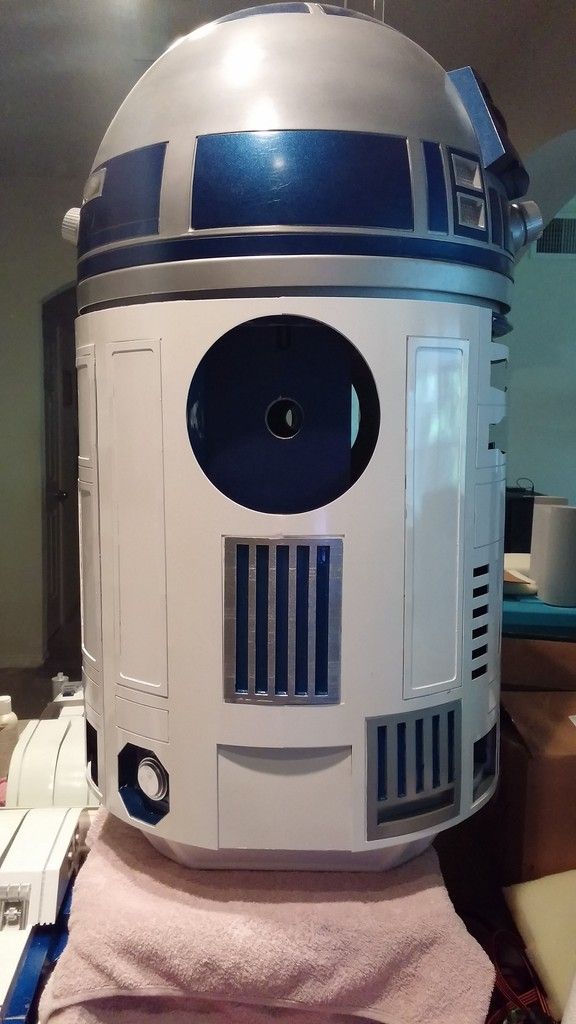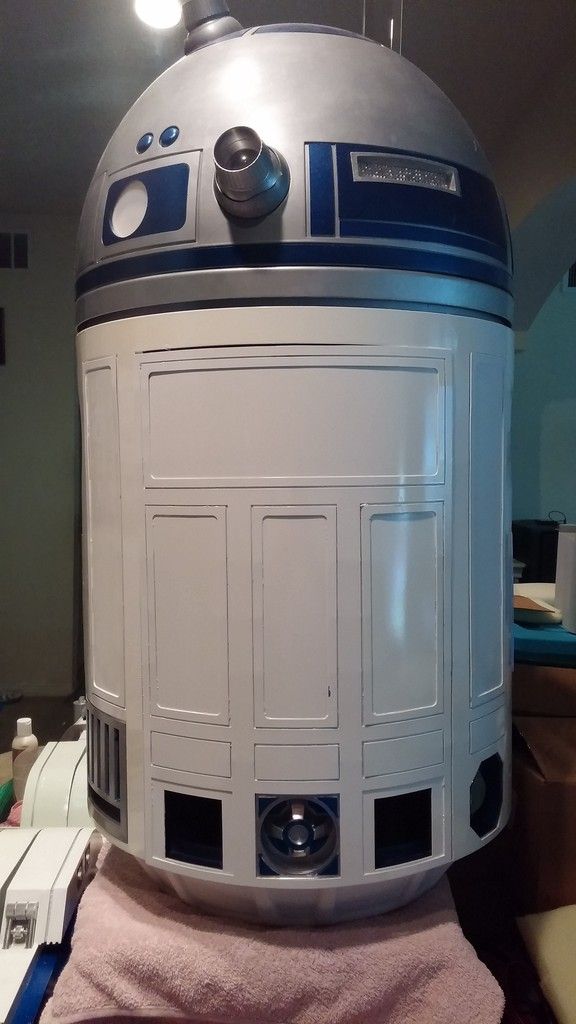 Body looked good so I put the legs on to see how they fit together, and to quote Ace Ventura "HHHAAAA Like a GLOVE!"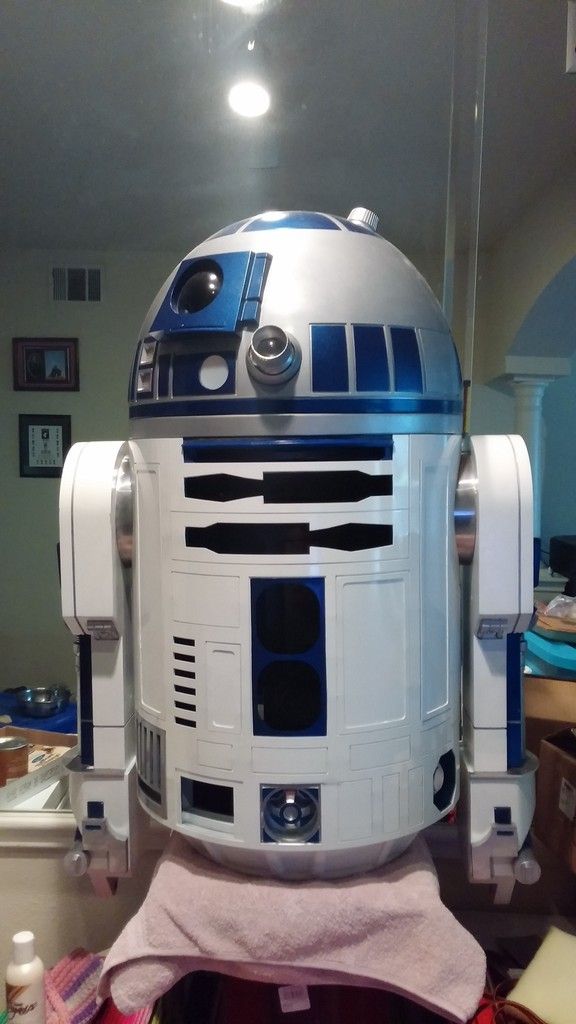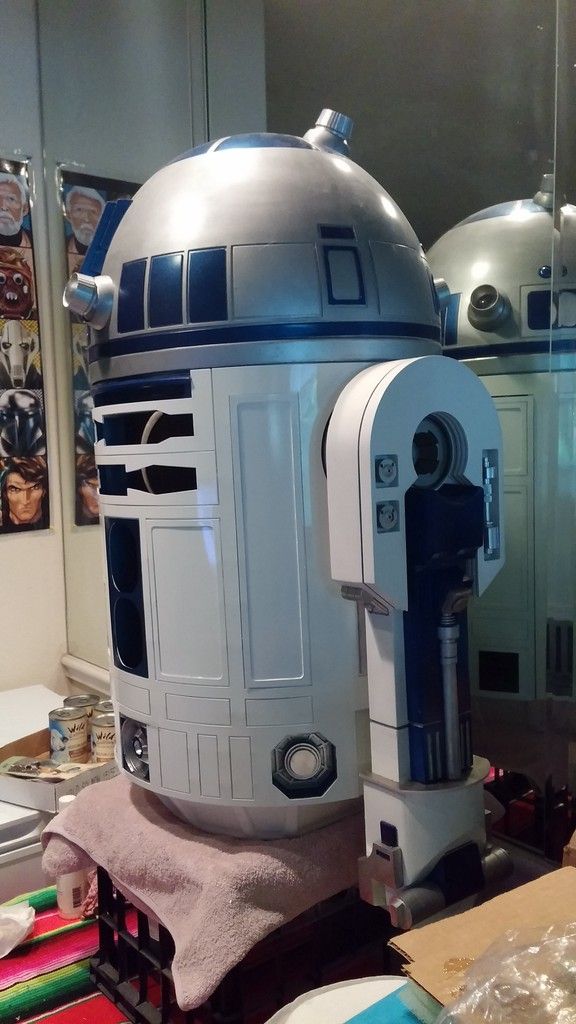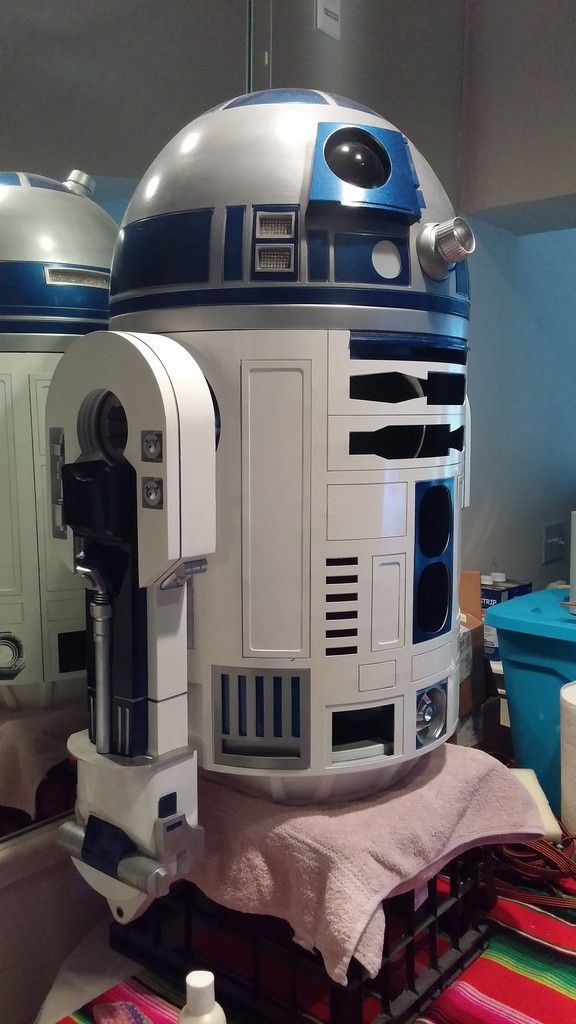 And here's how he sits today, like I said I'm pretty much done with the cosmetics and I've got a great static prop but R2 needs to be alive! He needs to move and interact with people!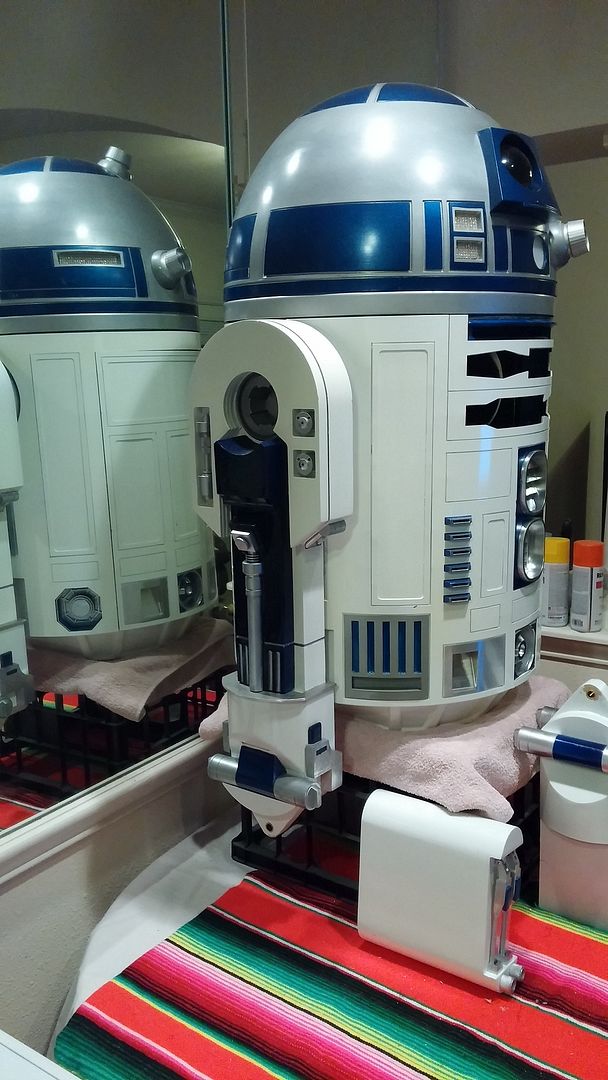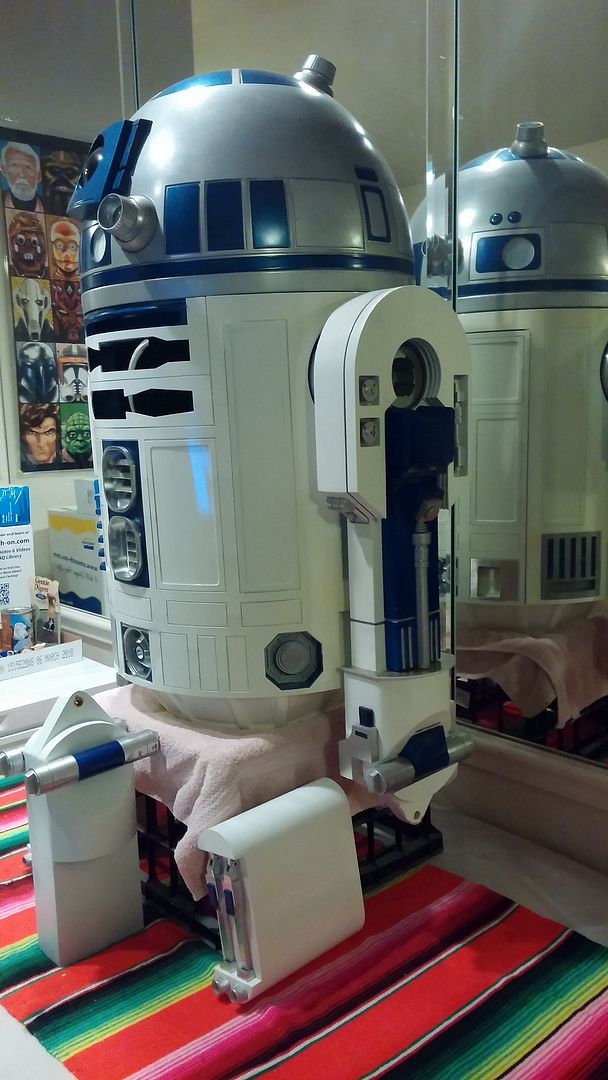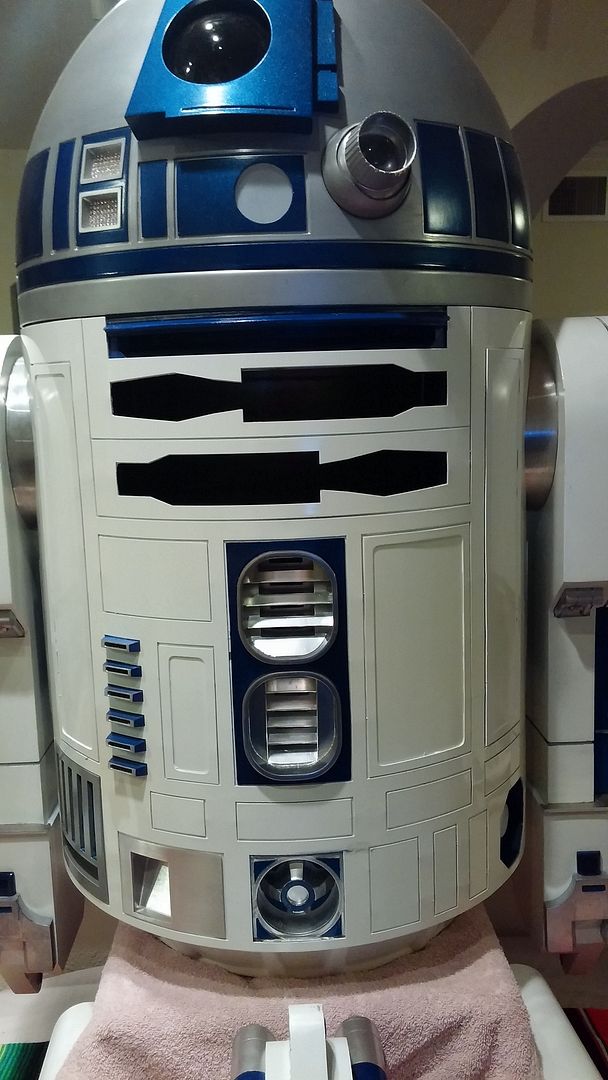 To answer some questions I'm sure I may hear, the frame is wood, the legs are also wood with MDF horseshoes.
The majority of the greeblies are resin except for the coin returns those I managed to find in aluminum.
The plan is to get him moving around then start replacing resin parts with aluminum as I can. I'll likely keep the frame as is as I don't plan on doing a 2-3-2.
Yes I'm going to get the utility arms on, I'm also going to finish hollowing out the center foot and get a caster on it before my foot drives get here, so many things to do.
So yep, that's where he sits for now, I'll try and get around on here more often to stay up on events and build days because with electronics en route I know I'll need a life line to put them together. I'm a programmer by trade and have looked at the sketches for the Arduino controllers and from a programming point I'm good. I can build my own computers, haven't bought a prefab desktop in decades lol. But slapping this together may be a bit over my head. I know I've already asked Devin for some assistance with the electronics and anyone else that's super awesome at them please feel free to lend advice or sympathy when the magic smoke gets out.
My battle plan for electronics is so far to go with a PS3 controller Padawan type setup.
My parts list for that is:
Arduino Mega 2560 Rev3 (Got it)
USB Host Shield (Got it)
Sabertooth dual 32A motor driver
sparkfun MP3 Trigger or WAV Trigger (WAV would be better quality sound) (Got it)
Genesis G16EP Battery - 12V 16.0Ah Sealed Rechargeable (x2 for 24v system)
Bluetooth Dongle (Got it)
DDRII Foot Drive System (got em)
Teeces dome light set (in hand)
So far that's about it, if you're still reading, good job you win the internet for this thread.
Last edited by
DarthMunchies
on Tue Aug 18, 2015 4:34 pm, edited 1 time in total.
---
Wow! Great work so far! I'm glad kent's r2 is getting some love
---
Yea, I'm glad he was willing to part with it. It put me way ahead without having to build up the frame and dome.
Got my foot drives over the weekend so woo hoo for that.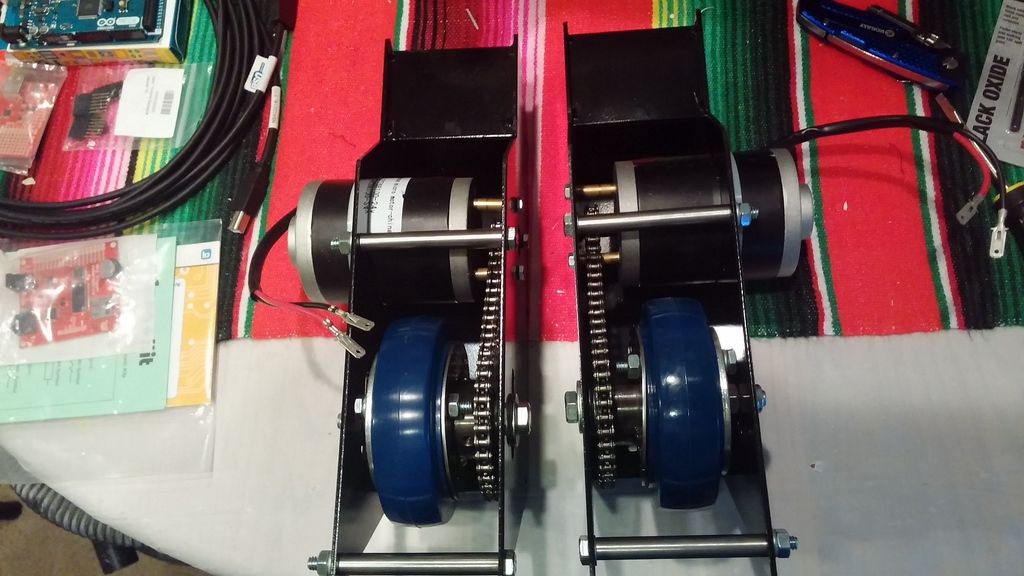 Also the electronics are starting to trickle in.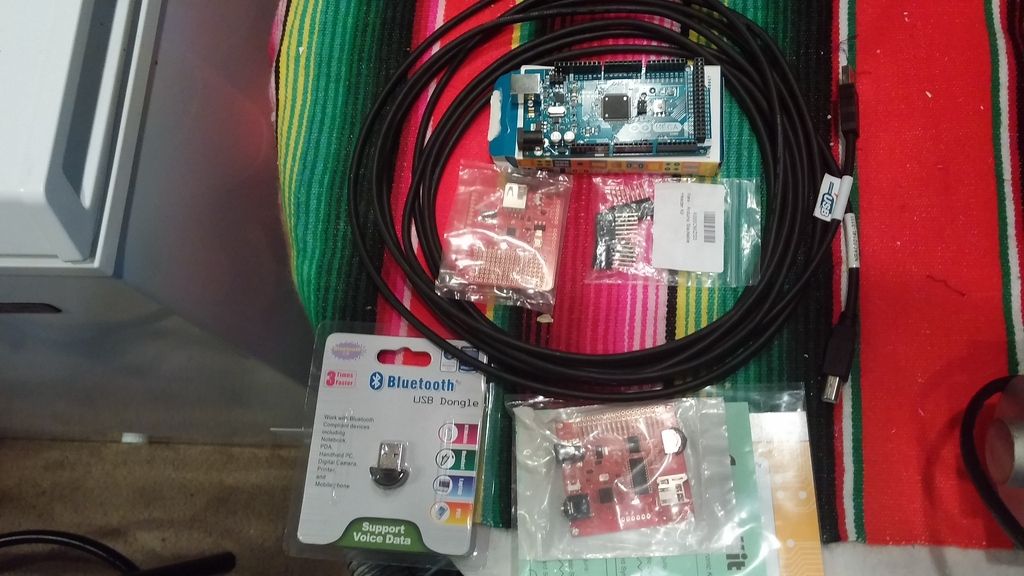 Got my Ardrino, USB host, MP3 trigger, Bluetooth dongle and some connectors. Still need to get batteries, sabertooth and dome motor controller before I can even think about getting things wired and testing stuff. Hopefully in a couple more months I'll have the rest of the parts and we can do a build day.
---
Posts: 296
Joined: Wed Oct 23, 2013 3:03 pm
Location: Aurora, CO
Name: Lynelle
Sorry I've been busy at work this summer, but welcome to our little group! We have a lot of events coming up fast. Check our Club Events page. Nice foot drives! I'll have to make the long drive to your place sometime and work on our droids. LOL
http://r2-al.blogspot.com
"To Do is To Be" - Socrates, "To Be is To Do" - Plato, "Do Be Do Be Do" - Sinatra
---
Haha, yea, the arduous trek to my place from yours, there's gotta be like 4 maybe 5 stop lights? lol

I did get my foot drive temporary mounted with the brackets I fashioned from some angled aluminium. I'm gonna try and get the center caster mounted in the foot so I can get the legs locked in place soon.
---
Return to Introductions and General Chat
Who is online
Users browsing this forum: DavidLIEX and 7 guests