In 2008, or was it 2009? I forget, I stumbled on an extremely rare and unique opportunity to buy a C-3po kit that is molded off a screen used suit from ESB. Not everything was included in the kit, but most of it was.
The goal for this project is to get the parts as close to screen accurate as we can.
The following photos are from various leaps in the progress since 2009.
This was our first set of castings, fresh out of the molds:
These casts turned out a million times better than my first attempt. Only one bubble of consequence that we had to fill.
I then finished the mothermold for the hand.
At this point we were nearly finished making a full set of parts:
For now we're using MLC arms until I can find a metal worker who can make arms for me the same way the originals were made, with lightweight metal tubes.
I am especially happy with how the hand came out. I had to do some research and took a small gamble on which rubber to use but it turned out great and we have a durable glove that should take paint and / or the plating process. This is how they made the gloves, shorts, and feet from Empire on, all through the rest of the movies:
It's wierd to say but all this work has basically been for research. This suit is just a test suit. Now we can figure out all the things that need fixing, cast another suit, fix everything, make new molds, and then we can make the perfect suit and get it metalized.
Because we wanted to get a "test suit" together for a theater event, we had to rush this project so there was little time to document, organize, and update so I'll just blaze through some progress shots
Getting the knees to function like they did in the movie wasn't as bad as I thought:
We created a leg bracket that fastened inside and allowed the legs to hinge:
We found a rubber mat that is a dead on match to the original:
Belly rubber piece under construction. Do those really look like twizzlers?
The finished belly wrap:
Finding the process to make the feet and hands like the ones used from ESB on. Fresh out of the molds with a gold powder dusted into the mold:
Putting our Vac-formed shorts to the test. We kinda rushed these so they didn't get trimmed out in the nicest fashion
We did cut about 3" off the legs though. With a coat of primer on them:
They used Vac-formed shorts in ANH and switched to rubber shorts in ESB. After actually testing them now I believe the shorts would be better if they were only fastened at the top mechanically instead of being glued all the way down. With overlapping and gluing them all the way down they are really rigid and make it tough to walk. After watching ANH and seeing how they flexed in the movie I don't think they were glued. I think they were only overlapped and fastened at the top. We'll add that to our list of upgrades and experiments.
Painting the parts:
Believe me I really didn't want to paint the suit cause it kinda looks fake to me but it makes me more excited to see it, learn from it, cast another suit, fix all the issues and make the uber accurate, clean version to be plated!!!
The basically finished prototype suit minus a few parts:
At the Rialto Theater screening of ANH. Man we gotta get Jeff some African neck stretchers
:
---
Here is the skit .... minus a few seconds of the beginning
http://www.youtube.com/watch?v=HXhJyIpNQEw
Last edited by
MonCal
on Tue Nov 05, 2013 12:06 pm, edited 1 time in total.
---
The next step is / was to clean up the suit, fix all the bugs, and make new molds.
Kent volunteered to help me with this process in January of 2012 and I think this is where we are still at with it now: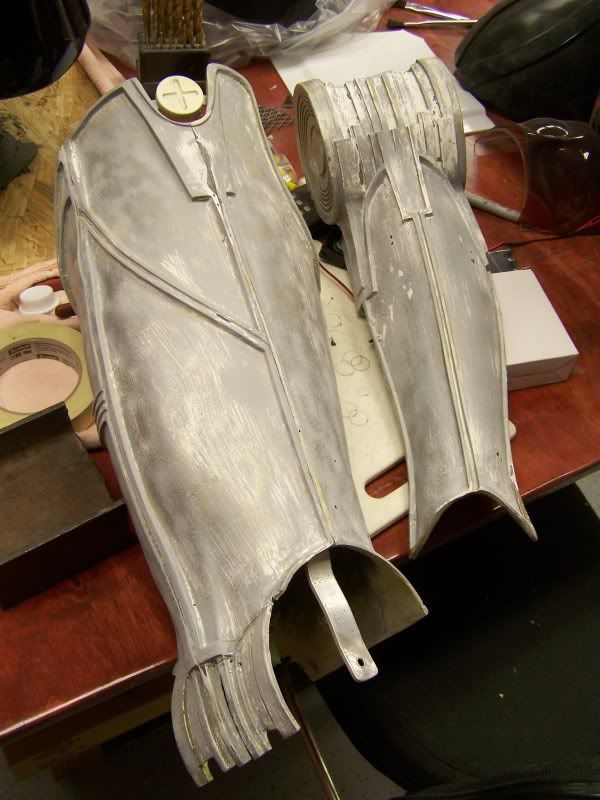 In those photos Kent had media blasted the "temporary" gold paint off, to get it back down to the primer layer so we can begin fixing the "bugs".
We need to revisit this project and really get it rolling again
I want a finished, plated 3po for the landspeeder.
---
Posts: 1
Joined: Thu Nov 14, 2013 12:41 pm
Name: Kent
I am sooo looking forward to this project being compleated!!!
---
Darth Stone wrote:I am sooo looking forward to this project being compleated!!!
Yes...please. Let's make this happen already
---
Here is our original head display we made oh.. in 2006 maybe.
I also made a TC-14:
The eyes I designed:
Our rubber gloves and shoes:
---
Wow this has come far from where it started!
---
Posts: 74
Joined: Fri Sep 12, 2014 1:40 pm
that's so awesome Cal!
you know I want one of these C3po suits for my collection once you get it all finished! just to put on a maniquin since I could never fit in one! lol! next to my R2D2 collection of droids.
Can wait till you have it finished!
---
Who is online
Users browsing this forum: No registered users and 5 guests